Feature Profile - David Faircourt
David Faircourt has a unique and powerful story. He is 30 year old artist suffering from one of the world's most tragic terminal illnesses.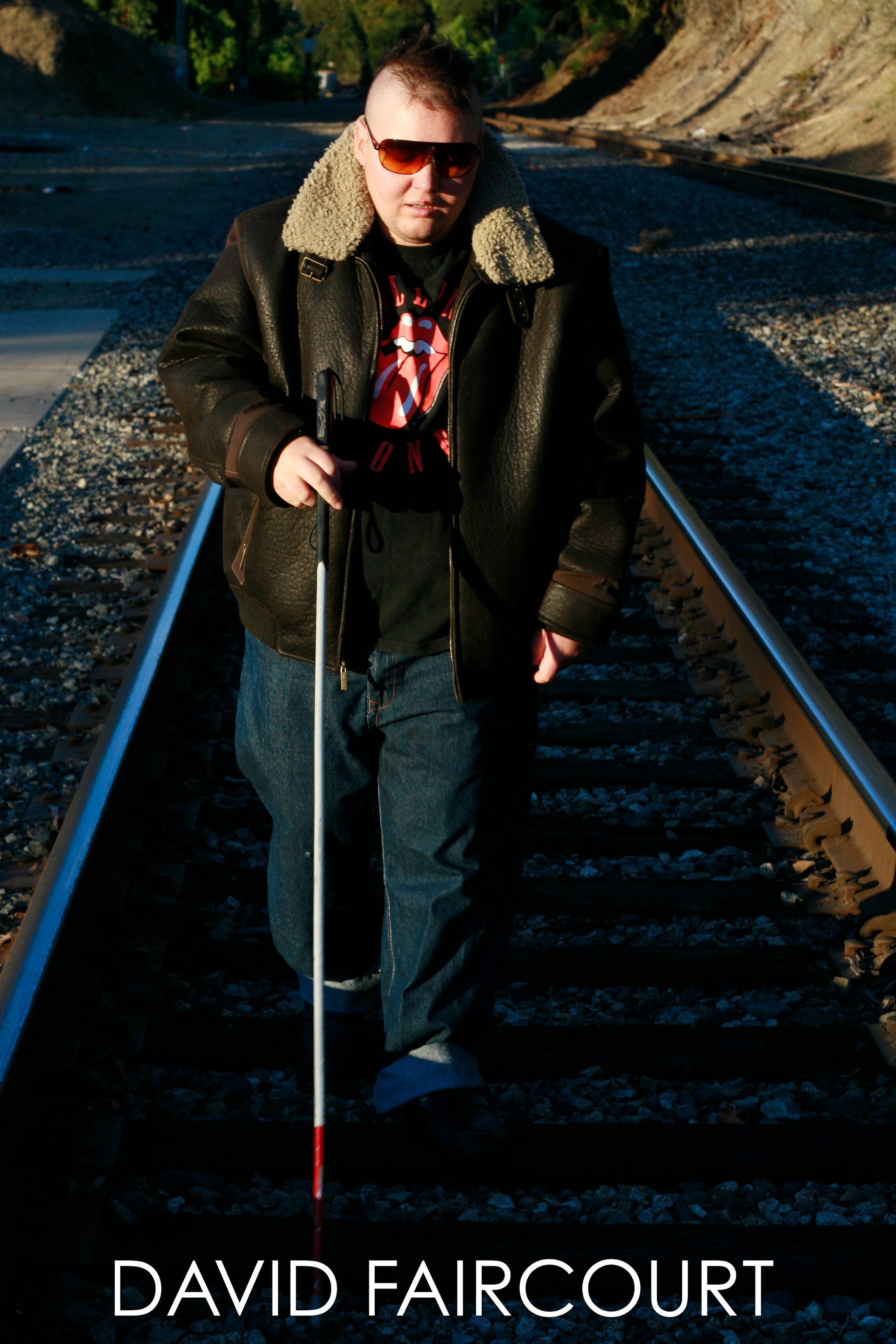 PHOTOS BY JACK ALGER 2007
my brother david has an epic talent for snoring
he also has many life threatning challenges
he has a failing heart, liver and kidneys. in fact he is on the national waitlist for a new kidney. until then, he undergoes dialysis treatments three times per week. do you know what dialysis is? that's where they take all the blood out of your body to filter it and then return it to your body. when he was born, he was given an incredibly rare terminal genetic disorder called alstrom syndrome. www.alstrom.org in 2012, there are roughly 800 cases in 40 countries.

our mother describes the disease as a monster. my oldest brother died of the disease when he was only 29. his name was marty.  alstrom syndrome makes children go blind. but that's not all. they also lose their hearing. and suffer from kidney failure and an enlarged heart and other terrible things i have never had to consider for myself. so as you might imagine i live a life of incredible fortune and incredible misfortune. somedays i want to kill myself 1000 ways. but most days i do really exciting, yet questionable things. 

my mother and i watched a lot of the incredible hulk on television. i think he was my favorite because ive been told that i was set on naming my young brother hulk. that still sounds fun, actually. i hope i get to name a son of mine hulk. someday. i also have hope my brother gets to name his son hulk. that makes me laugh. hulk. mom and dad decided on david. which was a nice comprimise.

david's nickname is dangerous dave. he got the name from our red-bearded fun loving uncle richard. when david was young he could see a little bit and had lots of energy. he would run around the house and sometimes run into walls and tables and things. he broke a lot of lamps and sometimes got hurt. i always admired that about him and it may have inspired my early days of an amatuer stunt man. this one story in particular is famous in our family.

it was around easter and my cousin and i snuck into our older cousins volkswagen bus to steal some candy. david somehow followed us, much like a ninja, because i was unaware. and minutes later we heard an enormous crash. it turns out david also snuck into the volkswagen bus after we had left and "accidently?" released the parking brake and put the the vehicle into neutral. he later admitted that it was deliberate, as he was attempting to drive. we lived on a hill and the vehicle began rolling backwards. fortunately,  dangerous dave managed to leap out of the side door as the bus rolled backwards down the steep and bumpy driveway before it crashed into an oak tree. thankfully so, because beyond that tree was the roof of our neighbors house.

for the most part, dangerous dave has settled a bit, but he still lives up to his name. however, it's mostly due to the fact that what you and i consider to be everyday life, is still quite dangerous to dangerous dave. for example his immune system is very weak and a common cold that you and i could whip in a couple days or a week, can last for weeks and months for dangerous dave.

in 2008,  he spent four days in the hospital for a cold that developed into a sinus infection. he was put on an iv unit for hydration and the doctor almost ordered a blood transfusion for low blood count. dangerous dave has had several blood transfusions over the past few years and many times we feared that we were going to lose him forever.

dangerous dave loves loud rockin music. some of his favorite rock bands might also be your favorite rock bands. do you like kiss? he does, mostly because it was marty's favorite. it's interesting to note that in the emergency room just minutes before marty passed on, many of our family gathered to say good-bye. i couldn't help singing out the chorus, "i want to rock and roll all night and party everyday!" we all sang it really loud and i'd like to think that marty really liked that. one of our uncles had a camera rolling, but there is no video link because my uncle is not willing to cooperate at this time. poo. rock and roll music has always been a staple in our family. dad loved the beatles. mom loves elvis. i love rocknroll too. so i had it tattooed on my chest. but this is about david. have you heard david's music? in 2009, he produced his first original song. it's called blindsided. i heard it one time and it made me cry. 

david spends most of his day sleeping, listening to music and talking to friends on the telephone, he loves talking on the phone, give him a call right now. 805.234.8192.  once in a while he gets out and goes to a good old fashioned rock n roll show. david's unique love for music makes him a most unique dancer. after teaching him just two basic principles, ive seen him wow many dance floors. "swing your hips and shake your fist" is all i really needed to teach him. you can imagine a few drinks were spilled, a few hats were knocked askew and a few dudes got jealous.  

david has a passion for good food. and he has some pretty strong opinions as well. that's why i can really see him making a powerful food critic. "this chicken is delicious!" but that's not all, david loves animals. wouldnt it be appropriate that he have some pet sitting responsibilites? he can take a bath with a few dogs, and pet a few cats, couldn't he? wouldn't that make a pretty cool calendar?

but most of all, what i want for david is to have the happy family that he has always wanted. when our parents divorced, we were young, and there was controversy. we were shifted from mother to father a few times and it was most incredibly painful. dad was hard of hearing, to communicate with him, it was necessary to look at him directly and speak loud. this situation resulted in lots of yelling between the boys and him. i can remember some very itense moments where both parties had no idea what the other person was talking about. "what?!" "huh?" "shut up!" "what are you talking about?" "i don't know!" dave

dad was also pretty serious about his loyalty to the jehovah's witness organization, which resulted in lots of meetings that us boys religiously slept through. i learned to doodle, dress like a banker and sing along to piano. as for mom, i don't think she ever really recovered from the devastation of her divorce, the afflictions of her two sons, and her last pregnancy resulting in a still birth. we had another sister on the way, her name was jessica. fortunately, my sister anna has given birth to five lovely children which my mother gets to enjoy on a daily basis. especially the youngest who just turned 1.

now, ive had a couple vegas style weddings, and a consistent flow of ill suited girlfriends. but as for david, he has had just one true love, her name was sara. they met through my mothers friend. sara lived on a ranch and loved horses. sara and david shared something really special as they were both suffering from insurmountable physical challenges. they talked on the phone a lot, but were not able to visit often because sara had a rare disease as well, and she was susceptible to infection. sara passed on in 2006 i think. david says he still thinks about her a lot. and i know it makes him very very sad. and he has told me that he feels that a big piece of him is missing. that makes me cry because that is pure and that is beautiful, and that is rare. i am crying right now. let's all shed a tear or two for this sad love story.

on the bright side, david is still snoring, and i hope he is dreaming of some pretty delicious chicken. and i also hope that the perfect someone will find david very soon. 
-TheKJF, SIr KEVIN JOSEPH FAIRCOURT
Other projects by Kevin Faircourt